So, we're driving down the New Jersey Turnpike, returning home from our mini-vacation to Boston when the NFO says "look at that car, it says '50 states or bust."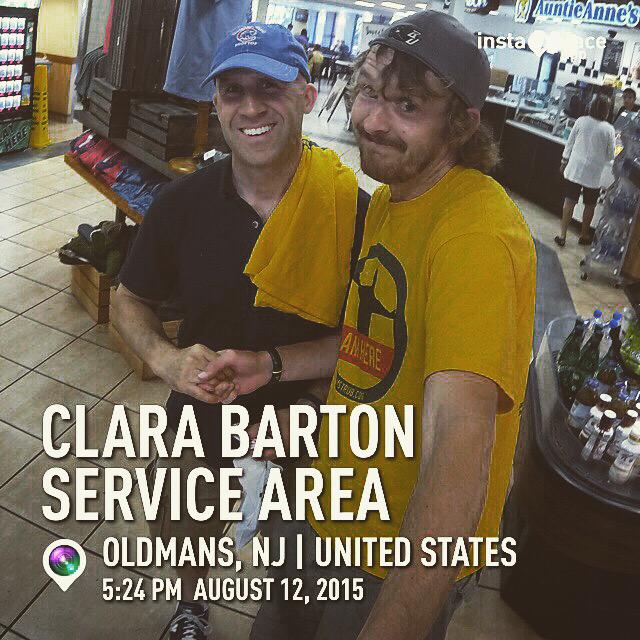 So, I look up from my computer and see a car that has writing all over it...like a "Just Married" thing but much more.
On the back, it says "@chrisstrub" on it. I give the guy driving a thumbs up and say, 'hey, I'm going to tweet him."
So, I do.
This kicks off a twitter back and forth (he's driving, I'm not) and ends up with us meeting at the Clara Barton rest stop where I get a souvenir t-shirt.
That's great, but what's really remarkable is when you meet people with passion who want to make a difference.
Chris fits that category.
He used to work at a social media agency (or he read my bio and just knew what to say) and previously spent some time volunteering with a youth organization. Then, he decides he wants to see America through the eyes of various youth organization.
So, completely self-funded, he takes off for 100 days to all 50 states (he only has 3 or so left as of right now) to make a difference.
He's got tour t-shirts (I now have one though the sunglass stand attendant somehow switched it to Aqua mode).
Here's another one fr
om Chris' tweet.
He has PR opps set up along the way (will be in the Wilmington, DE tomorrow and in Baltimore on Friday) and then heading for home in Charleston, SC.
Originally from NYC, I asked him, "so, man, why did you decide that this is something you wanted to do?"
His answer: "It was just something I felt like I had to do before I was 30."
Man...I just love this "leave it all on the field attitude."
And now...he's looking for his next job and you'd better believe I'm going to talk to him about
@sprinklr
Anyone with this type of attitude and ability to generate his own awareness and PR is worth some consideration.
— Chris Strub (@ChrisStrub) August 12, 2015